FedEx Field, located in Prince George's County, Maryland, is the home stadium of the Washington Redskins football franchise. This weekend, FedEx joined the ever-growing crowd of corporations, civic leaders, and decent human beings in
requesting the team to change its racist moniker
. Despite team owner Dan Snyder's years of resisting a name change, the team has now promised to "undergo a thorough review of the team's name."
In 2013, a similar groundswell of effort from numerous public officials—including former Prince George's County Executive
Rushern Baker
, former U.S. Representative
Donna Edwards
, and
President Barack Obama
—failed to pursuade Snyder. Many progressive media outlets
began refusing to refer to the team's official name
. Even conservative columnist Charles Krauthammer
penned a powerful op-ed
declaring that common decency, not mere political correctness, dictated the abandonment of a name that has become "tainted, freighted with negative connotations with which you would not want to be associated." Still, Snyder refused to budge.
Although the team's recent promise to "review" the team's name is no guarantee that the name will change, Washington's football team has much more incentive to do so now than it did in 2013. In seven short years, the nation has legalized gay marriage, banned employment discrimination against LGBTQ people, established a near-zero-tolerance approach to harassment of women in the workplace and beyond, torn down Civil War monuments to traitorous Confederate generals, retired state flags containing Confederate battle insignia, and held weeks-long mass demonstrations in the wake of police violence against unarmed Black Americans.
We have also witnessed four years of negative consequences from a divisive, racist, polarizing president who has focused on building border walls, separating Latino children from their families, denigrating people of color at every opportunity, and even stoking violence against peaceful protesters. As a result, Americans have increasingly become more attuned to—and oposed to—symbols and acts of race- and geneder-based insensitivity and violence.
Over the years, we have seen
no shortage of suggestions
for alternate names for Washington's football team. Krauthammer and others prefer simply shortening the name to the "Skins," which many people commonly do already. Some local residents mounted an
under-the-radar effort
to rename the team the "Washington Bravehearts." Another worthy contender is the "
Washington Redtails
," honoring Black Tuskeegee airmen.
One of the more hilarious (and vegan-friendly) proposals,
offered by PETA
, is to keep the name "Redskins" but change the logo to a potato: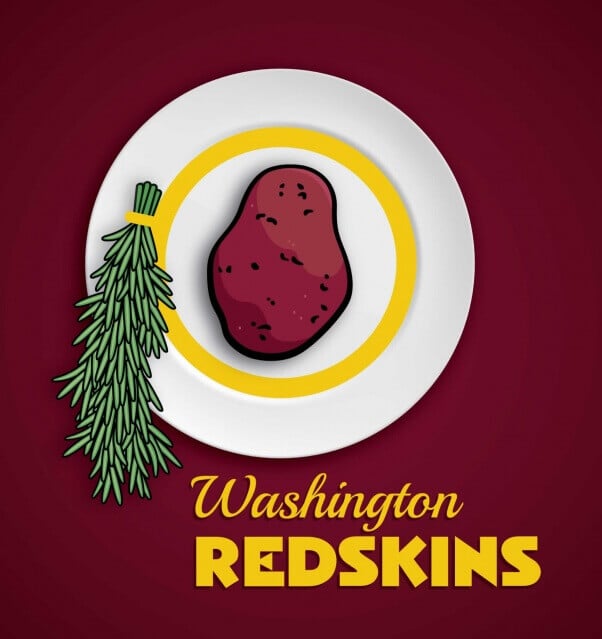 But who wants to root for a frigging spud?! We need a mascot that connotes power and might, one that evokes fear and trepidation in opponents—something exotic, yet familiar. Ladies and gentlemen, I give you…the
Washington Redfins
!
As described by the New South Wales government in Australia, "Redfin are a popular sport fish…because of their fighting qualities and taste. However, they are also voracious predators of other fish and invertebrates…and can devastate native fish populations…. For these reasons, redfin are considered a serious pest."
Talk about a fearsome little fish! Yet, they are sporty, they fight well, and they taste good. What more can we ask in a mascot? We could even keep the same fight song and tune, making only the simplest of modifications in the lyrics:
Hail to the Redfins. Hail, victory.
Pride of the Nation, [or, "Potomac war fish,"]
Fight for old D.C.!
It's time, Washington football fans, to start swimming with the mighty
Redfins
!